Featured Teacher Saturday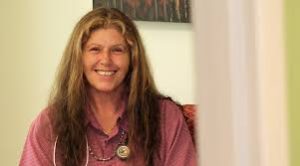 Dr Jody Noé, ND
Speaking Saturday at 10:15am
Dr. Noé runs Natural Family Health and Integrative Medicine in North Stonington, CT and specializes in integrative oncology, HIV/Aids and chronic disease. She is also an experienced practicing herbalist and was a practicing midwife in the past.  She works to facilitate integration of mind, body and spirit, which requires patient participation in their own healing process.
Dr. Noé practices traditional Cherokee medicine as taught by her Cherokee elders. This is a practice that encompasses mind, body, and spirit. She was accepted as an official apprentice in 1987 by Crosslin F. Smith, high medicine priest of the Keetoowah, cherokees of the western band of Cherokees in Tahlequah, OK. She was adopted into the Smith family shortly after starting her apprenticeship. This is a unique honor reserved for few. Prior to this she was taught by the elders of the eastern Cherokees, Mary U. Chiltoskey, "Mama" Geneva Jackson, and Amy Walker. Dr. Noé continues to study with her elders and practices traditional Cherokee ways.
Featured Teacher Sunday
Claudia Ford, PhD
Speaking Sunday from 9am-12pm
Dr. Claudia J. Ford has had a career in international women's health and development spanning three decades and all continents. Claudia is a midwife and ethnobotanist, who studies traditional ecological knowledge, women's reproductive health, and sustainable agriculture. Dr. Ford is on faculty at Rhode Island School of Design where she teaches Women's Studies, Indigenous Knowledge, Environmental Literature, and Environmental Justice. Claudia serves on the boards of The Orion Society, a community that publishes Orion literary magazine, and the Soul Fire Farm Institute, committed to ending racism and injustice in the food system. Claudia is the director of an on-farm artists' residency program, and she is a writer, poet, and visual artist; a single mother who has shared the delights and adventures of her global travel with her four children.
Teachers
Sakinah Abdur- Rasheed
Sakinah is a life long herbalist. She has been  teaching herblism and working as a practicing herbalist since the 1970's. She is also a dedicated community activist and works to stand up for women and the environment. She runs Sakinah's Herbs and WEHEAL. She is trained in Sufi healing, and utilizes spiritual healing and local herbs in her practice. 
Mira Silverman
Mira Silverman is a nurse-herbalist building her nest in Rhode Island. She has been in this lifetime a child in Brooklyn, an anthropologist in the Hudson Valley, an artisan in Mexico, and a plant-loving earth-wanderer. Mira received her formal training in herbal medicine at the California School of Herbal Studies before returning to school to become a registered nurse. She has a deep passion for accessible, integrative healthcare and she believes in the power of plants to help us reclaim the vitality and resilience of our bodies, our environment, and our communities.
Anna Fox
Anna became inspired by the magic of plants through her study of Ayurveda. She studied Ayurveda through the California College of Ayurveda and is an Ayurvedic Health Educator~ using this as a lens for her herbal practice. She has studied Western herbalism at Farmacy, completing all three levels of the Herbal Education Training Programs offered, most recently the Residency Program at the Sage Healing Collaborative. She is the Production Manager at Farmacy, where she makes herbal products, oversees interns, leads workshops and conducts herbal consultations. 
Karen Talbot has been a certified herbalist for 25 years and has led wild plant walks for organizations, schools, and private clients. She aspires to empower you to access the most local and sustainable food no matter where you live – country, suburbs, or city. And they're FREE! Discover how you can make family meals delicious and nutritious with "weeds" that grow right under your feet. She always has samples of food and drink as well as recipes at her workshops for the adventurous! 
Brook Kelly Norvish
Brooke Kelly Norvish is the owner and herbal educator at Botanicals By Brooke located in Kingston, MA. Connecting and working with botanicals has been a part of Brooke's life since childhood. She has completed Rosemary Gladstar's "The Science and Art of Herbalism" and has studied with established and well-respected herbalists such as Rosemary Gladstar, Susan Clements, Bonnie Kavanaugh, Mary Blue, Rocio Alarcon, Margi Flint, and Alisa Skywalker. Brooke offers a variety of one-day workshops as well as 10 month long herbal programs. To learn more about Brooke and her offerings go to: www.BotanicalsByBrooke.com

Karina Lutz
Karina Lutz is a poet, teacher, farmer, and life-long activist. She and her partner Jim Tull are launching a permaculture homesteading intentional community in Chepachet, RI, Listening Tree Cooperative. www.karinalutz.wordpress.com and www.ListeningTree.Coop

Jennifer Nino
Jennifer Nino of Jenza's Garden has be active in the herbal community for years and counts Mary Blue as one of her teachers. She has an Herbal Teaching Garden located in Northwest RI. In the Winter months she teaches herbal classes targeted to beginners. As spring approaches she opens her garden with the help volunteers in the form of Friends of Jenza's Garden. In the summer she is active in the garden holding classes, and growing Magical Herbs. Come fall when the garden is put to bed she teaches broom making classes.


Molly is an herbalist, traveler, language teacher, and bee lover. She has worked on farming projects in the Sacred Valley of Peru and on the development of natural cosmetics with Maasai women in Tanzania. Most recently she has been traveling throughout South East Asia learning about traditional foods, searching for wild bees, and teaching English to children. You can read more about her adventures on MollyBHagan.com.